Losing someone you care about can be one of life's most difficult experiences. There are no easy answers when trying to help a bereaved family come to terms with their loss. Every situation is unique and people react in very different ways.
At Richard Fearnley Independent Family Funeral Directors, we believe we have an important responsibility to care for our families, not just by offering support during the funeral, but especially through the difficult days that may follow.
Richard Fearnley Independent Family Funeral Directors was established in 1989 and has since gained an excellent reputation for respect, dignity and perfection. Our years of experience and dedication enable us to shoulder many of your worries and guide you through this difficult time.
As an Independent family concern we are deeply committed to upholding traditional professional standards regardless of your requirements being the very simplest of arrangements to the most lavish of funerals.
As your Funeral Directors, we are here to help and advise you in whatever, way we can. We are dedicated professionals who provide a personal service to you 24 hours a day, 365 days a year.
It is a rare privilege to be your Funeral Directors and stand in a sensitive position at a crucial time in the midst of your family knowing that the quality of our service and reputation will help you through this most difficult time in your lives.
This website is an extension to the specialist information that the Funeral Director will discuss with you. It allows you to sit in the privacy of your own home and reflect on the information you have been given and to raise any further questions you may have about complimentary or additional services we can provide.
It is not our policy to impose urgency or apply undue pressure on you or your family. It is important for many people to reflect the personality and character of the deceased within the arrangements and this often requires time and thought to do so.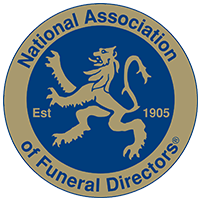 MEMBERS OF THE NATIONAL ASSOCIATION OF FUNERAL DIRECTORS
The National Association of Funeral Directors is recognised by Her Majesty's Government and its external agencies as the trade association that represents and sets the standards for UK funeral firms. Bearing the NAFD logo indicates a professional credibility and trustworthiness to bereaved families.
The NAFD's standards are high and, in order to maintain them, the association's team of Standards and Quality Managers conducts regular inspections of members' premises, while the funeral homes of all new applicants are examined prior to these companies being accepted into membership.
Funeral firms have to satisfy key professional competence criteria before they can be admitted into membership of the National Association of Funeral Directors. The NAFD's logo is, therefore, the "kite mark" for the funeral profession - adding credibility to member businesses and helping to instil in bereaved families the confidence that NAFD members are committed to delivering the highest quality of service.
NATIONAL ASSOCIATION OF FUNERAL DIRECTORS - DIPLOMA HOLDER
BRITISH INSTITUTE OF EMBALMERS - DIPLOMA HOLDER